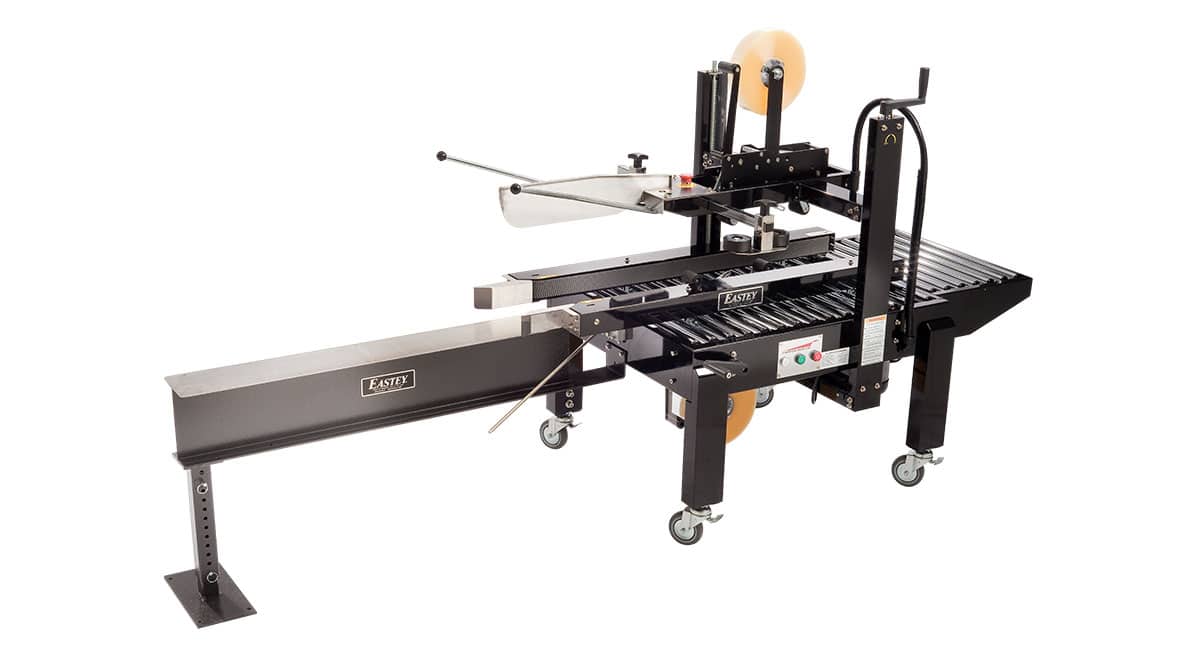 Easy Packer Side Belt Case Taper Press Release
June 1, 2017, Brooklyn Park, MN – Eastey, a leading manufacturer of L-sealers, sleeve wrappers, shrink tunnels, bundling equipment, case tapers and material handling, introduces the Easy Packer case taping system designed to streamline manual case packing while providing efficient case sealing.
The side belt driven Easy Packer is designed for compact, packing and sealing. The durable design has proven to be one of the most reliable case tapers on the market today, keeping production and maintenance efforts to a minimum. The Easy Packer provides a fast and cost-efficient alternative to hand taping.
The Easy Packer is supplied with extended side rails, flap closing bars, and an optional 48" anvil packing station to assist with the packing and sealing process. Operation is performed by opening the case and manually folding the bottom front and back minor flaps and placing the case on the anvil to be filled. Once filled, the operator pushes down and holds the top trailing minor flap while the box enters the machine to be sealed.
Easy Packer offers fast and easy case changes with adjustable side rails and flexibility for boxes 5" in length and greater. Adjustments can be made on the fly with easy hand tighten knobs and cranks. Easy Packer utilizes Eastey's Easy-Taper Quick-Load top and bottom tape cartridges and will seal boxes as narrow as 4.0" wide and as low as 4.0" tall.
The Easy Packer is available now through Eastey Enterprises network of authorized distributors. Sales inquiries can be directed to Joshua Nelson, Eastey Enterprises, 7041 Boone Avenue, Brooklyn Park, MN 55428, 1-800-835-9344.
Eastey operates as a subsidiary of Engage Technologies Corporation, parent company of Squid Ink, Eastey, AFM, and Cogent Technologies. Squid Ink www.squidink.com is a leading manufacturer of superior quality inks and ink jet printing equipment. American Film & Manufacturing www.afmsleeves.com manufactures and supplies shrink sleeves and shrink labeling solutions. Cogent Technologies www.cogent-tech.com manufactures infrared drying systems used to dry ink in the industrial and graphics industries.
###
For press information, please contact:
Joshua Nelson
Eastey
(763) 795-8856, ext. 1735
jnelson@engagetechnologies.net
Photos available via e-mail – please e-mail jnelson@engagetechnologies.net for details.
More Press Relases