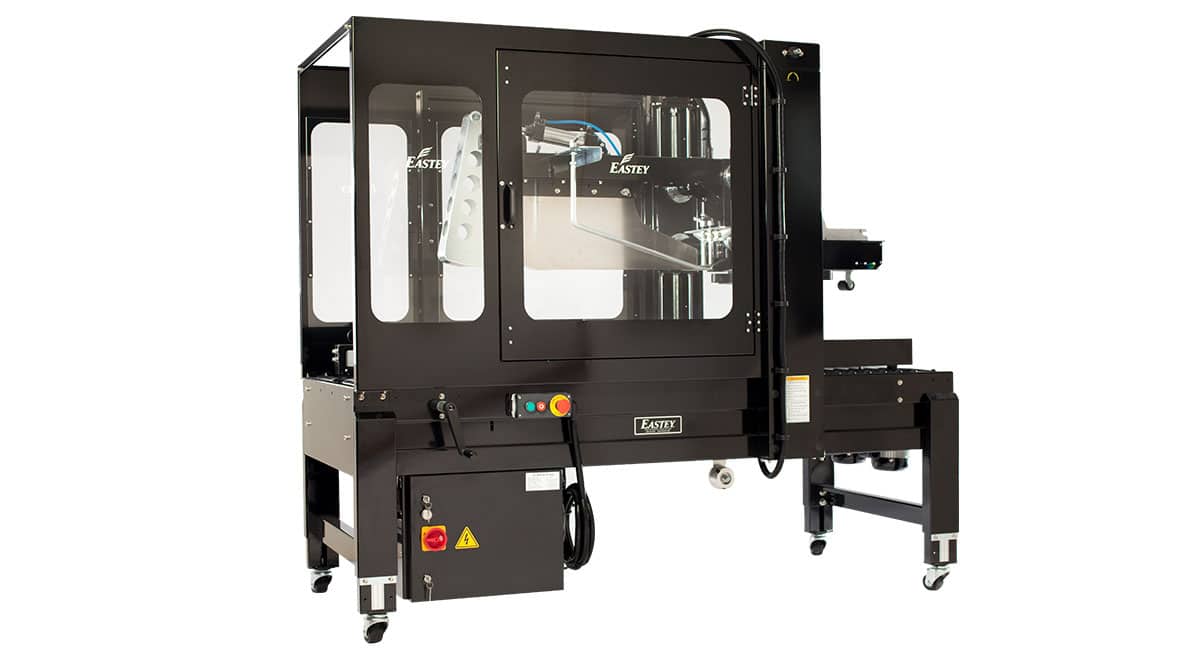 SB-2EX Semi Side Belt Case Taper Press Release
March 01, 2017, Brooklyn Park, MN – Eastey, a leading manufacturer of L sealers, sleeve wrappers, shrink tunnels, bundling equipment, case tapers and material handling, introduces the SB-2EX Semi case taper, designed for semi-automatic uniform case sealing.
The SB-2EX Semi is a semi-automatic uniform side belt case taper designed to close all four top case flaps and seal the top and bottom of each case. The adjustable plow system provides the utmost flexibility for varying types of carton sealing applications and provides a great alternative to hand taping. The SB 2EX Semi will seal up to 20 cases per minute.
The SB-2EX Semi will accept cartons from a powered conveyor and will automatically close the top carton flaps. A rugged stainless steel plow folds down the front panel, while a rear kicker folds down the trailing minor flap prior to the major flaps being folded. The SB-2EX Semi automatically meters cartons with a photoeyed controlled gating system. Top squeezing rollers help keep the major flaps together while keeping the carton square prior to tape application.
SB-2EX Semi offers fast and easy case changes and flexibility for boxes 5" to 24" in length. The adjustable hand cranks can be moved to either side of the machine and allow for quick carton change over. This feature allows users to locate either side against a wall, while being able to maintain control of the adjustments from the opposite side. SB-2EX Semi utilizes Eastey's EX Quick-Load top and bottom tape cartridges and will seal boxes as narrow as 4.5" wide and as low as 4.5" tall.
The SB-2EX Semi is available now through Eastey Enterprises network of authorized distributors. Sales inquiries can be directed to Joshua Nelson, Eastey Enterprises, 7041 Boone Avenue, Brooklyn Park, MN 55428, 1-800-835-9344.
Eastey operates as a subsidiary of Engage Technologies Corporation, parent company of Squid Ink, Eastey, AFM, and Cogent Technologies. Squid Ink www.squidink.com is a leading manufacturer of superior quality inks and ink jet printing equipment. American Film & Manufacturing www.afmsleeves.com manufactures and supplies shrink sleeves and shrink labeling solutions. Cogent Technologies www.cogent-tech.com manufactures infrared drying systems used to dry ink in the industrial and graphics industries.
###
For press information, please contact:
Joshua Nelson
Eastey
(763) 795-8856, ext. 1735
jnelson@engagetechnologies.net
Photos available via e-mail – please e-mail jnelson@engagetechnologies.net for details.
More Press Relases