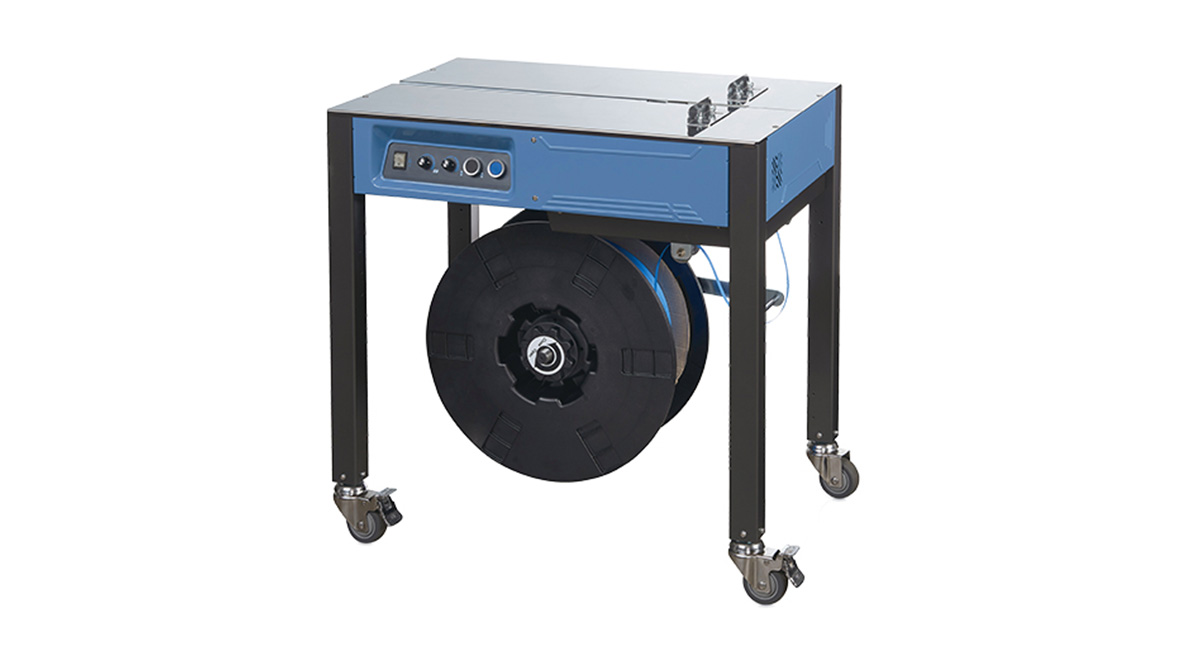 EXS-100 Table Top Strapping Machine Press Release
October 01, 2019, Brooklyn Park, MN – Eastey, a leading manufacturer of shrink packaging equipment, automated case erectors, tapers, and material handling solutions, introduces the EXS-100 semi-automatic strapping machine designed to efficiently strap and secure over- filled and heavy weight packages.
The semi-automatic EXS-100 strapping machine is designed to apply a plastic strap around user's packages, preventing them from opening during handling and transit. The EXS-100's bottom seal design is an ideal solution for low to medium volume users that need additional security beyond case taping.
Operating the EXS-100 strapping machine is easy and can be learned in minutes. The machine features an open cabinet design, making it easy to view and change the poly strapping. Additionally, the EXS-100 features electronic tension control, allowing the user to adjust the proper tension for a wide variety of packages, and the heated strap-weld sealing system ensures a secure strap.
The system comes standard with four locking casters that allow for easy transportation within the facility. The EXS-100 is pre-configured to an industry standard height of 30", making a comfortable fit for most packaging environments.
The semi-automatic EXS-100 is available now through Eastey's network of authorized distributors. Sales inquiries can be directed to Joshua Nelson, Eastey, 7041 Boone Avenue, Brooklyn Park, MN 55428, 763-428-4846. jnelson@engagetechnologies.net
Eastey, Squid Ink, American Film & Machinery (AFM) and Cogent Technologies are all divisions of Engage Technologies Corporation. Eastey (eastey.com) is a leading manufacturer of heavy-duty shrink packaging equipment and automated case sealing systems for packaging applications. Squid Ink (squidink.com) is a manufacturer of coding and marking systems for product identification and traceability, providing superior quality inks and low maintenance printing equipment. American Film & Machinery (afmsleeves.com) supplies shrink labelers and tunnels, shrink sleeves, and tamper bands. Cogent Technologies (cogent-tech.com) manufactures infrared drying systems used to dry ink in the industrial and graphics industries.
Engage Technologies Corporation is headquartered in Brooklyn Park, MN with facilities in Rogers, MN, Spring Lake Park, MN, The Hague, Netherlands, and Shanghai, China. The Company continues to expand sales and services, with authorized distributors strategically located throughout the U.S. and the rest of the world.
###
For press information, please contact:
Joshua Nelson
Eastey
(763) 795-8856, ext. 1735
jnelson@engagetechnologies.net
Photos available via e-mail – please e-mail jnelson@engagetechnologies.net for details.
More Press Relases