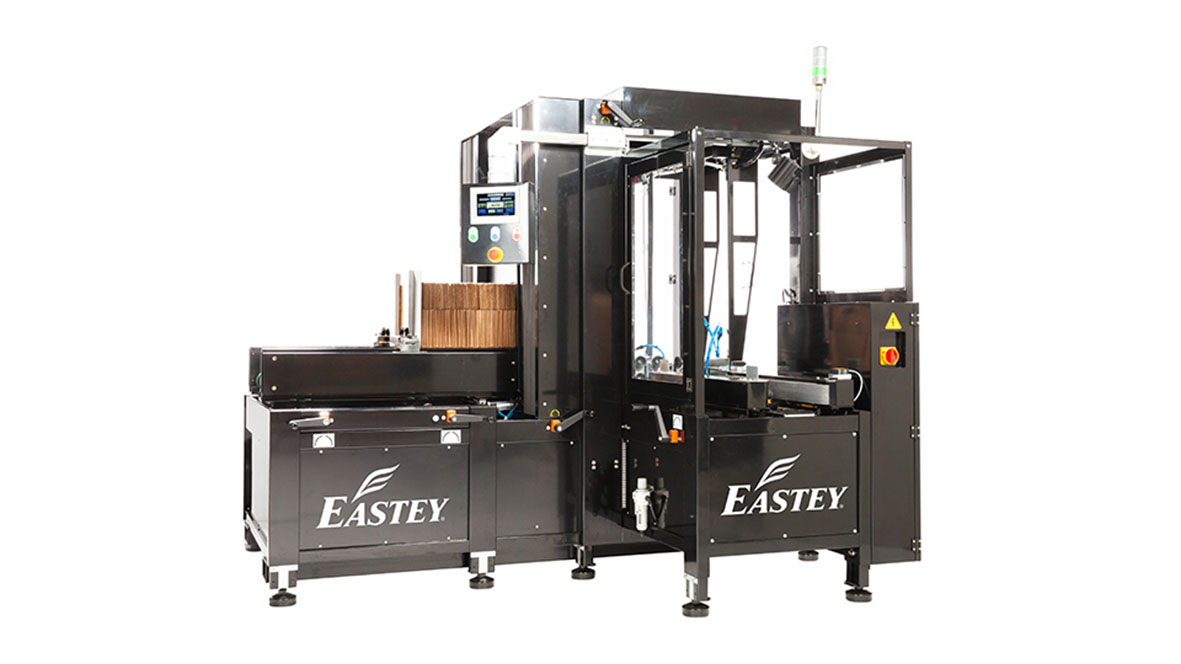 ERX-15 Automatic Case Erector Press Release
October 01, 2019, Brooklyn Park, MN – Eastey, a leading manufacturer of shrink packaging equipment, automated case erectors, tapers, and material handling solutions, introduces the ERX-15 Automatic Case Erector designed to efficiently form and seal the bottom of corrugated cases in a single pass.
The ERX-15 Case Erector from Eastey is designed to automatically erect and seal the bottoms of corrugated cases at production rates up to 15 cases per minute. The ERX-15 is designed to keep production and maintenance efforts at a minimum while providing fast, efficient case erecting, making the ERX-15 an ideal alternative to manual case forming.
The ERX-15 Case Erector enables a single operator to form, seal, and pack corrugate cases. Operation is simple: load up to 200 cases in the case magazine hopper and set the system to run or jog mode. Separators release the leading blank case where a series of eight vacuum suction cups hold the case in a properly formed square position. After a set of stationary flap folding bars fold both minor and major bottom flaps, the case is then transitioned and the bottom is sealed with Eastey's proven EX tape head.
The versatile design of the ERX-15 allows operators the flexibility of adjusting on the fly with easy-to-use hand tighten knobs and cranks. No tools are needed and users can complete a changeover in minutes. ERX-15 features a wide range of case sizes as large as 19.5" L x 19.5" H x 15.5" W.
Dual 1/4 HP side drive motors, eight precise double vacuum powered suction cups, and aggressive industrial strength drive belts make ERX-15 a workhorse that will stand up to today's toughest challenges. Each case erector is made from steel with a powder coated exterior to protect the system from abusive industrial conditions and ensure years of use.
The ERX-15 Automatic Case Erector is available now through Eastey's network of authorized distributors. Sales inquiries can be directed to Joshua Nelson, Eastey, 7041 Boone Avenue, Brooklyn Park, MN 55428, 763-428-4846. jnelson@engagetechnologies.net
Eastey, Squid Ink, American Film & Machinery (AFM) and Cogent Technologies are all divisions of Engage Technologies Corporation. Eastey (eastey.com) is a leading manufacturer of heavy-duty shrink packaging equipment and automated case sealing systems for packaging applications. Squid Ink (squidink.com) is a manufacturer of coding and marking systems for product identification and traceability, providing superior quality inks and low maintenance printing equipment. American Film & Machinery (afmsleeves.com) supplies shrink labelers and tunnels, shrink sleeves, and tamper bands. Cogent Technologies (cogent-tech.com) manufactures infrared drying systems used to dry ink in the industrial and graphics industries.
Engage Technologies Corporation is headquartered in Brooklyn Park, MN with facilities in Rogers, MN, Spring Lake Park, MN, The Hague, Netherlands, and Shanghai, China. The Company continues to expand sales and services, with authorized distributors strategically located throughout the U.S. and the rest of the world.
###
For press information, please contact:
Joshua Nelson
Eastey
(763) 795-8856, ext. 1735
jnelson@engagetechnologies.net
Photos available via e-mail – please e-mail jnelson@engagetechnologies.net for details.
More Press Relases