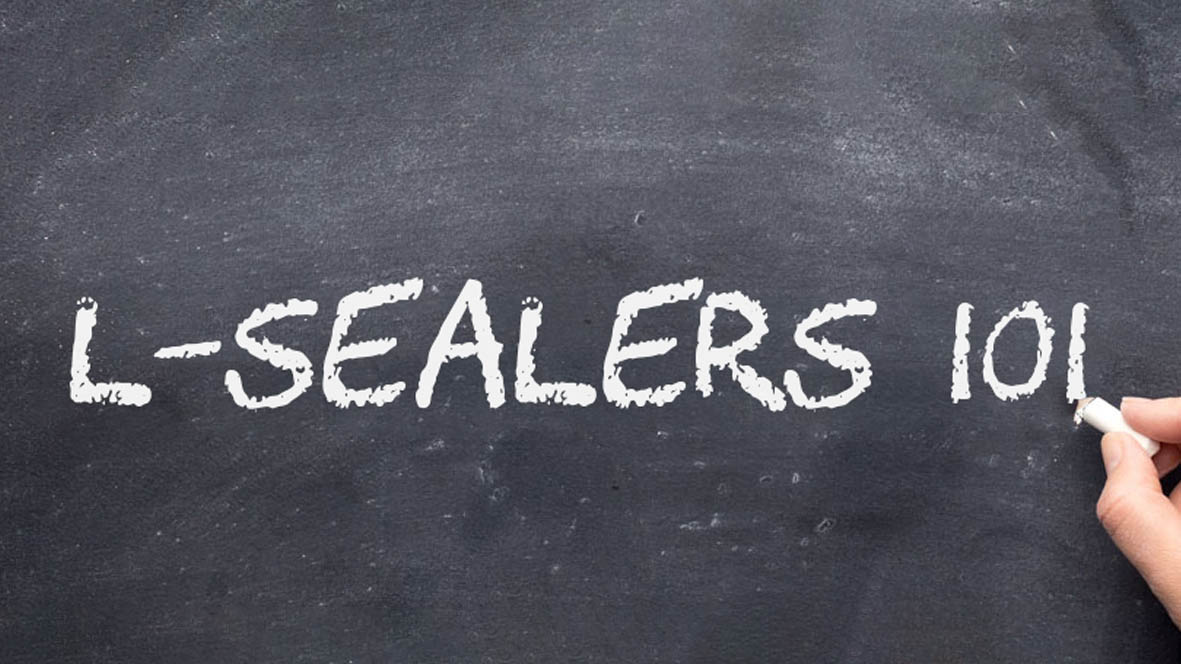 L-Sealers 101
L-sealers are used every day in manufacturing facilities all over the world to help secure and protect products of all shapes and sizes. Manual and automatic L-sealers are available in various configurations ranging in size and sealing ability. Manufacturers need to choose an L-sealer that will work well with the products they produce, not only in the size of the sealer, but the function of operation and packages per minute they can seal.
What is an L-Sealer?
An L-sealer is a piece of packaging equipment designed to enclose a product with shrink film. Commonly, an L-sealer consists of an adjustable product tray where the product is placed and the top layer of center folded film covers the product. Next, the product is moved to the sealing area with a seal head and takeaway conveyor. The seal head is shaped like the letter "L" and uses heat to seal the film together, creating a loose bag around the product being sealed.
Manual and automatic L-sealers are used to wrap products and can be paired with a shrink tunnel to shrink the film around the product. Often, the L-sealer is a separate piece of equipment from the tunnel; however, combo unit L-sealers combine an L-sealer with a shrink tunnel on a common frame for a convenient all-in-one sealing solution, such as Eastey's VS1620 Value Series Combo Unit.
Manual L-Sealers
Manual L-sealers have a simple set up and are easy to operate. The product is first placed on the product tray. The product tray separates the center folded film, allowing the product to be placed between the upper and lower layers of film. Next, the product is transferred to the seal area where the "L" shaped seal bar is pulled down by an operator, and magnetic sealing clamps hold the heated seal bar in place for a length of time based on the user's dwell time settings. The dwell time is the time required to make the seal, which is adjustable from one to five seconds.
When the seal is complete, the seal head will automatically release, and the next product can be placed in the seal area. Our Eastey L-Sealers are equipped with either the hot wire or hot knife seal head to provide a positive sealing a wide variety of films including polyolefin, polyethylene, and PVC.
After the product is sealed, the takeaway conveyor transfers the product to a shrink tunnel where the film is shrunk. In some cases, users prefer their product to be wrapped in a loose bag, and a shrink tunnel is not needed. For example, if you have ever used a blanket on an airplane, there is a strong chance that it was sealed in a bag by an L-sealer to provide a loosely wrapped enclosed bag.
Automatic L-Sealers
Automation is becoming more common in the world of manufacturing due to higher production rates and increased productivity. For manufacturers with high product volumes, automatic L-sealers help to automate the sealing process, leading to increased productivity and efficiency. To operate an automatic L-sealer, the product is placed on a running conveyor and is fed through the upper and lower layers of film. Once completely fed through, the seal bar is automatically lowered, and a clean seal is made.
After the product is sealed, it can then be moved along the conveyor to a shrink tunnel. Examples of automatic L-sealers are Eastey's VSA1721 and VSA2530, both designed specifically for intermediate applications that require simple operation, small footprint, or a limited budget and yet will handle the day to day abuse required for automatic sealing. For large industrial products, Eastey offers Professional Series Automatic L-Sealers for automated sealing efficiency.
Do you still have questions about which L-sealer might be right for your production line? Our team of experienced packaging professionals is here to answer your questions.
Visit our automatic and manual L-sealer product section and give us a call to upgrade your packaging line!