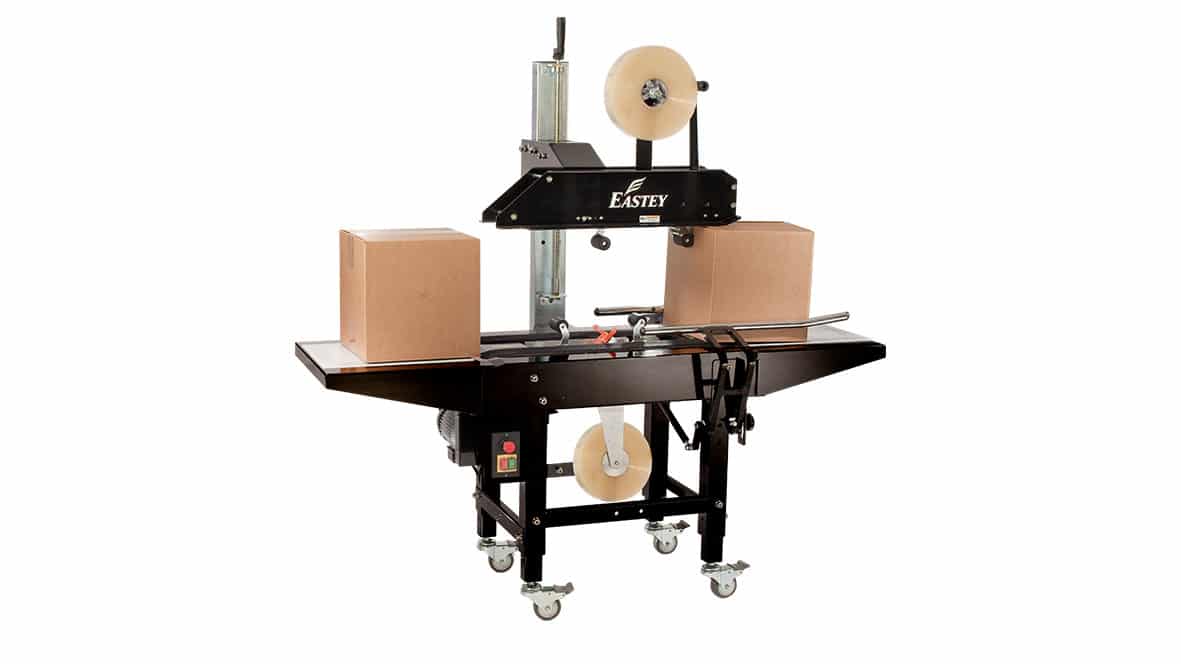 BB-2 Bottom Belt Case Taper Press Release
October 01, 2015, Brooklyn Park, MN – Eastey, a leading manufacturer of L-sealers, sleeve wrappers, shrink tunnels, bundling equipment, case tapers and material handling, introduces the rugged BB-2 case taping system for sealing cases at a cost-effective price.
Eastey's BB-2 case taper is a cost-effective top and bottom case taper designed for large run case sealing. BB-2 features self-centering side
rails, a rugged bottom belt drive, and heavy-duty mast that easily adjusts to handle a variety of case sizes. BB-2 top and bottom tape heads are interchangeable and tip back for easy threading. No air is required to run the BB-2 taping system so it can be placed anywhere in the factory. A safe single mast allows clear access to all components and adjusts for a variety of case sizes. The use of Eastey's BB-2 case taping machine can be learned in minutes, avoiding breaks in production and downtime.
BB-2 offers fast and easy case changes with adjustable side rails and flexibility ranging from 5˝ to infinite box length. BB-2 is also able to seal cases ranging from 5˝ to 21˝ in width, as well as 4˝ to 20.5˝ in depth. Adjustments can be made on the fly with easy hand tighten knobs on a single mast design. BB-2's open design is also perfect for integration with ink jet printers where coding is required on boxes.
The BB-2 is available now through Eastey Enterprises network of authorized distributors. Sales inquiries can be directed to Joshua Nelson, Eastey Enterprises, 7041 Boone Avenue, Brooklyn Park, MN 55428, 1-800-835-9344.
Eastey operates as a subsidiary of Engage Technologies Corporation, parent company of Squid Ink, Eastey, AFM, and Cogent Technologies. Squid Ink www.squidink.com is a leading manufacturer of superior quality inks and ink jet printing equipment. American Film & Manufacturing www.afmsleeves.com manufactures and supplies shrink sleeves and shrink labeling solutions. Cogent Technologies www.cogent-tech.com manufactures infrared drying systems used to dry ink in the industrial and graphics industries.
###
For press information, please contact:
Joshua Nelson
Eastey
(763) 795-8856, ext. 1735
jnelson@engagetechnologies.net
Photos available via e-mail – please e-mail jnelson@engagetechnologies.net for details.
More Press Relases